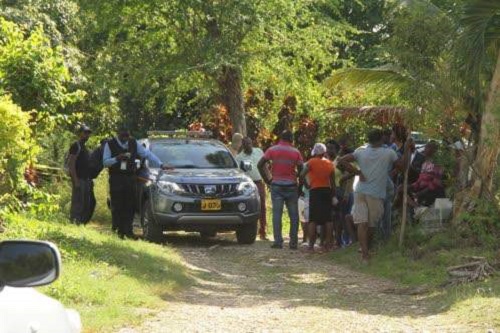 (Jamaica Observer)
The police yesterday exhumed the partially decomposed body of a female Caucasian suspected to be that of 72-year-old US national Nancy Hardy, who has been missing since Saturday. Members of the Area One police are awaiting results of a forensic examination to positively identify the body.
Hardy, who was of Amherst, Massachusetts in the United States of America and Phase 3, Whitehall in Negril, has lived in Jamaica for some 20 years.
Yesterday, the body was unearthed from a shallow, makeshift grave in an isolated section of the Fish River Road community, near Orange Bay, in Hanover. It was wrapped in a blue towel, with hands and legs bound, and the mouth stuffed with a rag. The police, acting on a tip, went to the area and spent over five hours retrieving the body.
Reports from the Negril Police are that around 10:00 am on Saturday, someone went to visit Hardy at her Negril home but she could not be located. At the time she went missing she was wearing a multi-colored T-shirt and a pair of black shorts. After several failed attempts to contact her, a report was made to the police.
Yesterday, residents of Fish River Road were shocked when they woke to scenes of police swarming the usually peaceful community. They were even more alarmed to learn that a body was buried in shrubs behind premises.
A member of a group of men outside the police yellow tape noted that the woman was a frequent visitor of a particular male in the community. That person, we learned, has not been seen for the last few days.
The police, who are leading the investigation, said Hardy's car is also missing.